Gay paranormal erotic romance for the daring reader.
---
Angel in the Middle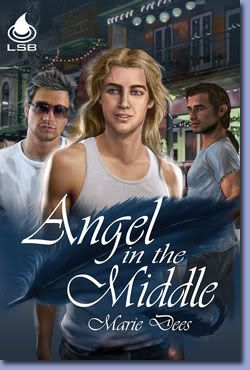 When Darius, the most naïve angel ever bounced out of Heaven, falls from grace and lands in Ybor City, Florida, he finds himself caught in a power play between Heaven and Hell. In desperation, he realizes he must follow the advice of Tribal, a fallen angel turned demon. Tribal advises Darius to seduce the demon hunter coming after him as a way to avoid going to Hell. But how can an angel, who has never experienced sex, seduce Franco, the big bad demon hunter, and just what does Tribal stand to gain by playing Cupid?

Available at:
---
Demon Bait

St. Augustine, Florida, is known for its ghosts and Lorenzo is one of them. He's
spent more than a century as a resident of Tolomato Cemetery. But he isn't able to rest easy in his grave since Lucifer insists on resurrecting him regularly to offer him a job. While he can't escape being condemned to Hell himself, Lorenzo refuses to help send others there.
Lucifer is irked when Lorenzo refuses him once again and turns to Tribal, an
oversexed demon who has solved these types of problems before. Tribal has a solution to his Master's problem. He plans to tempt Lorenzo with the one thing the passionate Spaniard can't resist—a lover.
Who better to catch a ghost than a ghost hunter? Tribal baits his trap with Tom, a hunky and lonely ghost hunter. When Lorenzo refuses to give into Tribal's plan, the demon resorts to a dangerous trap that puts Tom's soul in danger, and Lorenzo must defy Hell itself to save him.

Available at: