There's a bit of cowboy in Cory who works leading tours at an off-road experience. He's an All American kind of guy. But will Blake succeed in winning the ATV Cowboy for himself? Find out in my M/M erotic short story Red Flagged, currently available on Amazon for Kindle for just 99 cents. (Also on Smashwords for the same price for readers who need other e-formats.)  In this post, I'm sharing a bit from a bit deeper into the story. Adult readers only please!
Red Flagged Blurb
Cory can spot a troublemaker right away. His job is to make sure no one outrides their skill on the ATV course, and Blake looks like guy who doesn't follow order easily. But when Cory red-flags him after a jump, he finds out that Blake wants to take something besides a four-wheeler for a ride. All Cory has to do is follow orders and hold on tight. Contains explicit M/M sex and light BDSM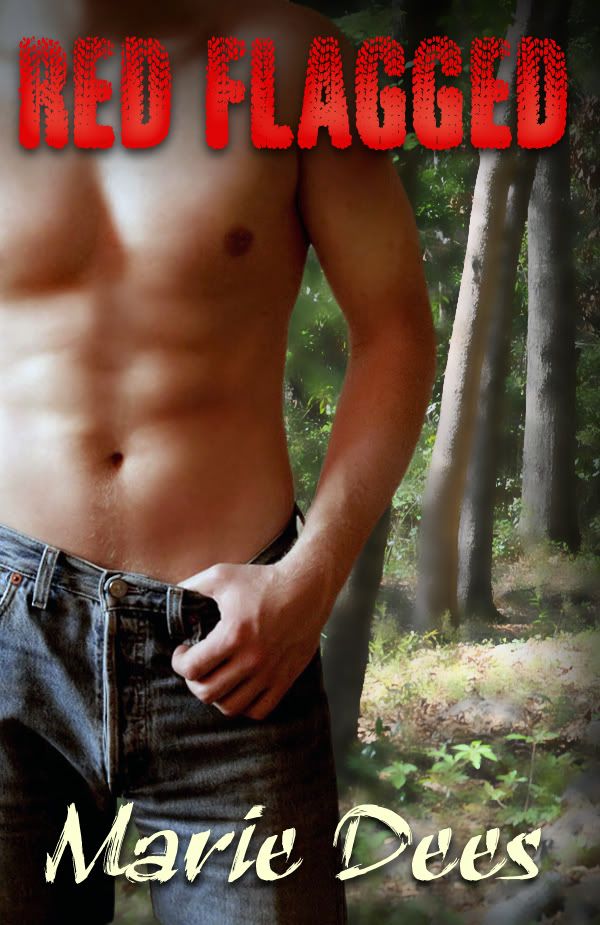 Excerpt
Cory pulled off his helmet. "You've had enough fun for today. You get to ride back with me." He pointed to the passenger seat on the back of his ATV.
Finally. But giving in too soon wouldn't do. He stood so he was eye to eye with Cory. "Think so?"
"You ride back with me or you walk."
Blake crossed his arms and pretended he was considering the options. He looked back in the direction of the picnic tables, watching Cory out of the corner of his eyes. Then it hit him. He knew where he'd seen him before. He'd been at the club a few nights ago. There had been an abundance of boys that night, and Cowboy had blended into the crowd. Damn. How could he have not noticed him? On the course with no one else around, Blake could appreciate the lean, tan glory of him. Maybe it wasn't a farmer's tan. He wondered if he'd now be able to get that shirt off to find out. "Guess I'm riding with you, Cowboy."
"Cory." He spat it out. He was so angry his eyes nearly sent out sparks. Damn, green eyes and red hair. He'd never been into gingers. Maybe it was time to change that.
Blake gave a little shrug and sauntered over to the ATV. He climbed on the back and pulled on his helmet. He waited until Cory had taken his seat, turned on the machine and headed toward the picnic tables, then he leaned forward and reached around to put one hand flat against Cory's abs. He felt muscle. He also felt Cory catch his breath in surprise, but he didn't stop the ATV. Blake let his hand drift downward until he reached Cory's crotch. He cupped the bulge there, rubbing his thumb along it through Cory's jeans. The guy was a nice size. And still not objecting as he turned the ATV into a wide circle, heading in a direction that Blake knew led away from their starting point. He reached with his other hand and flicked one of Cory's nipples through the T-shirt.
They rode like that, with him caressing and Cory driving, until they were well behind a stand of cypress trees. Blake could feel the bulge in his own jeans, and he knew just what he wanted to do with Cory. After all, Cowboy had been at the club.
Cory jumped off the ATV and pulled off his helmet. His cheeks had flushed to match his hair. "This can get me fired."
Blake pulled off his helmet. "Your safe word is 'red flag'."
"What? Dude, we're where I work. And on the course with your company. I make the rules here."
"Nope, don't think so," Blake said. "We left the course when I signaled my interest. That was your choice. Now I'm establishing terms. You were at the club, so you know the drill. Your safe word is 'red flag.' You will not address me as 'dude' but as Blake or Sir. You will do what I say until we finish here and return to the others. Once there, we can go back to looking like you're making the rules."
Check out all the authors on Cocked and Loaded

Comments
Tell us what do you think.