Thanks to all who participated. Molly is the winner of Angel in the Middle. I'll be doing another blog hop in the near future with another prize!
In honor of the Hero Hop, Tribal the Demon has insisted on taking control of the blog to discuss his views on romantic heroes.
****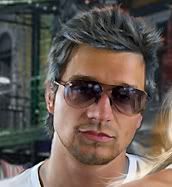 Heroes, pfft, all muscles and brawn. Not that there's anything wrong with that. Okay, let's be honest, there's everything RIGHT with that. I've spent a little time with the hero in my day. But ladies, these dudes sometimes need a little help. Someone has to get in there and create a little trouble to get the hero and the other dude together. It's not like you can trust them to do this on their own.
Take Darius. Oh, sure, Blondie is all cute and adorable, in a fallen angel sort of way.  Do you think he would have thought about going after Franco if I hadn't explained to the guy exactly what he should do with that big, strong demon hunter? Nah.  He'd have gotten himself bounced all the way to Hell, which is exactly where I don't need him to be.
Want to see what I'm talking about?  Just read a little about me below and then leave a comment telling me who I'm better looking than. (Yeah, I know – EVERYONE – but who do I mention below.) I'll have the author send an ebook copy of "Angel in the Middle" to one lucky person.
# Tribal out #
Angel in the Middle
Tribal is summoned by Lucifer to answer a few questions.
****
His name rang like a bell in the massive entry hall. He could feel himself vibrating with the air itself. "Sorry, dudes, do you later. Love ya. Mean it."
He landed on his hands and knees in the sand pit. He didn't move. There were granules of blessed silver in the sand, and that stuff stung like heaven. He lowered his head until it was almost touching the sand. "Master."
"You've been showing initiative." The voice was deep and smooth, the words almost a melody.
"Yes, Master." He didn't move or raise his head. He wasn't sure how big a sin initiative was. He'd never been accused of it before.
"Subverting my guards by making yourself available to them is something I expect from you. But servicing one of my demon hunters was," the voice paused, "unplanned. I wouldn't have expected Franco to fall for a demon, considering his job."
"I'm better looking than Gressil."
The Master chuckled at that. "And do you think the fallen one will also be able to seduce Franco?"
Tribal snorted. "Darius couldn't seduce a fire demon on a cold day." He raised his head just a bit. "Franco won't be able to resist him for a second. Big Guy has the hots for angels, and Darius still fucking glows."
"You've done well."
Tribal raised his head the rest of the way. The figure on the throne smiled at him with a gentleness that was never seen in the pits of Hell. The Master had wings with ebony feathers that stretched out behind him. And he still possessed the ethereal beauty that marked an angel. Darius still had that beauty, and there was no way Tribal was letting a glowing angel boy get in on his territory. If his plan worked, Darius would stay right where he was–on earth.
"If this works, I will reward you," the Master said. "If it fails … ah, but there is time to consider that later. Come, take a place at my feet."
Tribal scrambled out of the sand pit and across the dark stone of the floor. He knelt at the Master's throne, his head at the perfect level to observe the folds of the robe that covered the Master's crotch. He looked up and winked. "Anything I can do for you while I'm down here?"
****
Lucifer's Boys Series
Gay paranormal erotic romance for the daring reader.
Angel in the Middle
When Darius, the most naïve angel ever bounced out of Heaven, falls from grace and lands in Ybor City, Florida, he finds himself caught in a power play between Heaven and Hell. In desperation, he realizes he must follow the advice of Tribal, a fallen angel turned demon. Tribal advises Darius to seduce the demon hunter coming after him as a way to avoid going to Hell. But how can an angel, who has never experienced sex, seduce Franco, the big bad demon hunter, and just what does Tribal stand to gain by playing Cupid?
Available at:
****