As I've grown older, what to do to celebrate my birthday has become a tricky question. Part of the problem is that I'm not the type of person who really wants a lot of attention on me. I don't party or go out to clubs and really, I'd often just rather stay home and write. But last year, I celebrated my birthday in a way that suited me perfectly. I went on a ghost hunt with a local team.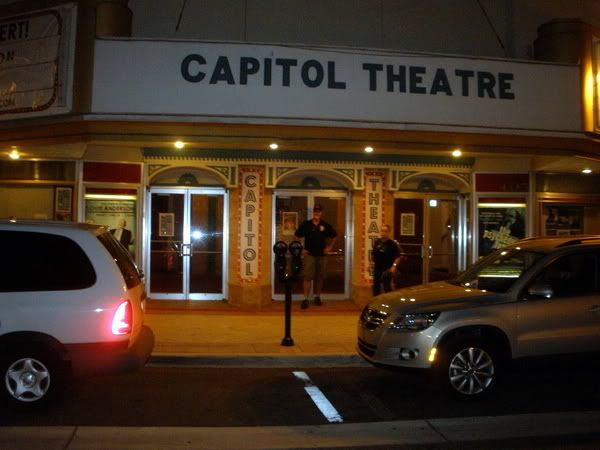 The investigation was of the Capitol Theater in Clearwater, Florida. It's an old theater with a long reputation of haunting from a young girl to a sea captain to Bill, a manager who was murdered in 1980. The theater has been feature in TV shows like "Children of the Paranormal" and is popular with local ghost hunting teams. I'd been working with a local paranormal group as part of my book research. I wanted to learn how to set up equipment, run wires and other aspects of ghost hunting they don't discuss much on Ghost Hunters, so a big investigation was perfect.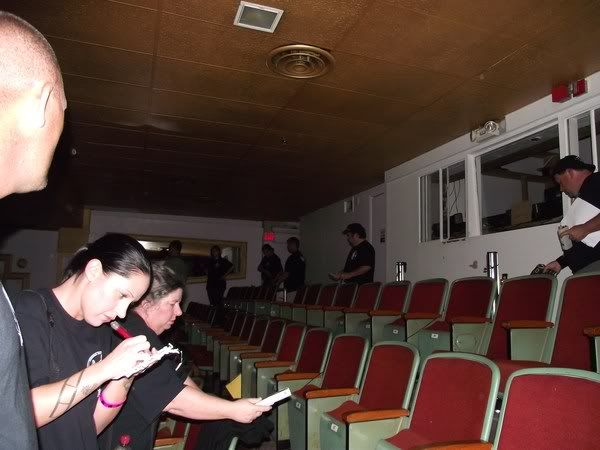 This is a picture with me and the team running baseline readings. When hunting with EMF meters and other equipment, a team will check the area to see what the equipment picks up just on its own. The theater had so much old wiring and such that the EMF meters you see on the TV shows stayed at an almost constant "yellow" level and weren't very useful. I've always had more luck using a Maglite flashlight for yes and no type questions.
Here's a nightvision shot of me sitting on the stage of theater and asking questions with the flashlight turning on and off in response. Now, to put this in perspective, I'm sitting on the floor having a conversation with my flashlight. A big part of ghost hunting is learning how to do that smoothly and without feeling ridiculous when the flashlight doesn't respond.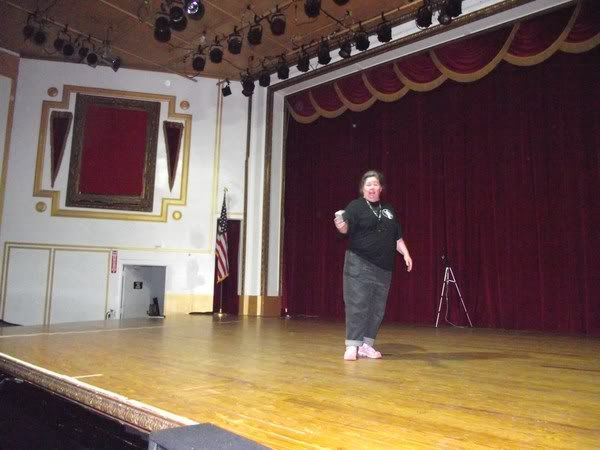 Is it real? Did I find any ghosts? I've had experiences on ghost hunts that have sent others running across the room. I've had full out conversations with something that was not physically perceivable. I can tell you experiencing it is far more persuasive than watching it on TV. I've also been on ghost hunts where things weren't exactly what they seemed. On this particular investigation, the group leader got his names confused when telling the story of the theater and gave the name of the murdered manager as Jim. Later that night his wife supposedly became possessed by "Jim" who was screaming about being murdered. It's just a darn shame that the murdered manager's name was Bill. Yep, sometimes it's just theater. That's me on stage with an EMF meter.
To show off some of the results of my ghost hunting research, I'm giving away a copy of "Demon Bait" (M/M erotica) where Tom is a ghost hunter who doesn't know when he's found his ghost. Just leave an answer to this in the comment section – Do you believe in ghosts?
Visit other authors on the Birthday Blog hop and leave comments for a chance to win a Kindle Touch or a $60 gift card (Barnes and Noble or Amazon) Also, commenting below will get you into the main drawing.
Visit the other authors and say "Happy Birthday" to Carrie Ann on her blog.