This week I'm a bit more from "Lair of the Jaguar God" available from Liquid Silver Books. This one is a M/M romance with were-jaguars.
****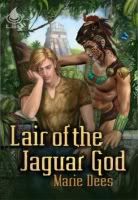 Kit lay stretched out, his arm muscles taut as he pulled on the bonds that held him. His chest heaved with each breath, and each time he struggled against the bonds, the blood seeped around the edges of the wound.
Ah-Tabai moved closer, realizing that he should not have kept the room in darkness or he would have seen the signs of Kit's distress earlier. He brushed the golden hair off Kit's forehead. "You don't need to struggle, Kit. We are in my home."
Wide green eyes looked up at him. "Please untie me."
****
Comments
Tell us what do you think.